Employee values
Shaping the future together:
Examples of our corporate culture at DZ BANK
At DZ BANK, we care about our core values but also about the needs and wishes of the next generation. Young people who join our workforce grow with us and identify with our values. But they also help us to grow, thanks to the personal initiative and flexibility that they bring to the company.
Every company wants to hire the very best talent. But how do you know who the best people are? The most important thing for us – apart from appropriate qualifications for the relevant position – is that the applicant is a good fit for our company. The underlying idea of 'cultural fit' is that company and applicant should share the same values and pursue the same standards of conduct. We want candidates who not only have great skills and qualifications, but who are also a good match for our corporate identity.
In an interview, Thomas Ullrich, member of the Board of Managing Directors with responsibility for Human Resources, and HR development manager Sylvia Wolf-Britsch talk about some key recruitment criteria of DZ BANK and about important qualities that applicants should have.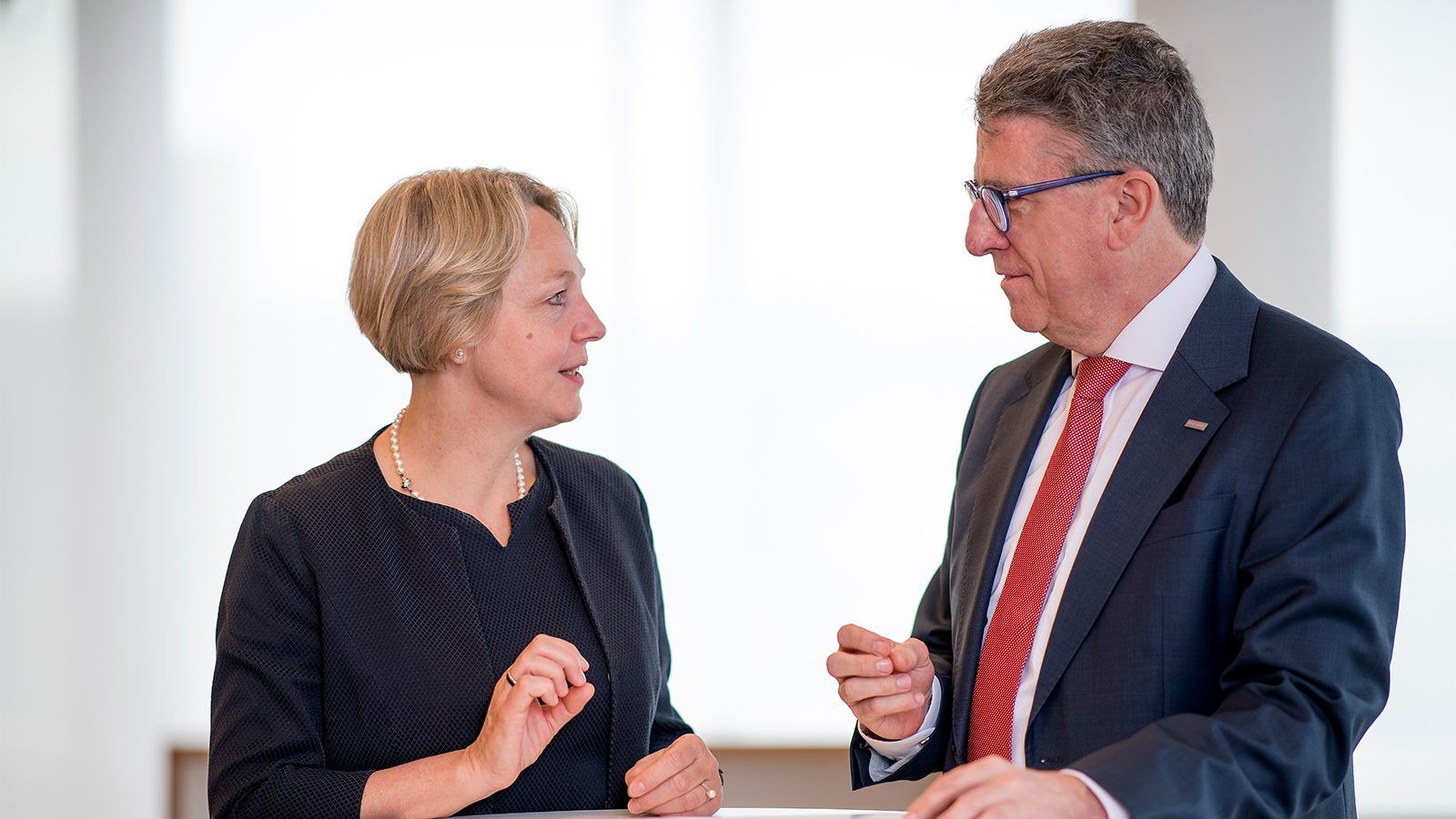 We need drivers, not passengers.
Competition for talent in the financial sector is tough. Why would an applicant in today's world choose a career at DZ BANK?
Sylvia Wolf-Britsch: "Applicants care about choosing the 'right' bank – a bank that represents something they believe in. We've heard many university graduates say 'If I was to work for a bank, I'd only work for DZ BANK.' But making the 'right' choice is equally important for us as a company. We need to find applicants who are a good fit for us. This is what we call the 'cultural fit'. In other words: The chemistry has to be right."
Thomas Ullrich: "Candidates decide to be part of our overall financial services group, not just DZ BANK. Applicants who are interested in working for us usually do some up-front research about the cooperative business model of the bank and the DZ BANK Group. And the sustainability of our business model often seems to be more important to them than specific facts and figures."
Sylvia Wolf-Britsch: "That's true! Many of our applicants – especially recent graduates – say that they feel very strongly about the cooperative principle and that it played a big part in their decision to apply to us. Fairness and appreciation are important factors. And there is substantial interest. Last year, we received 3,470 applications for junior staff positions alone."
Talking about the 'cultural fit': Could you name a few attributes that characterize an ideal candidate for DZ BANK?
Thomas Ullrich: "Candidates should be flexible, well educated, have a broad range of skills and interests, and should have the determination and energy to keep learning at all stages of their career."
Sylvia Wolf-Britsch: "They should have a strong set of values and both feet on the ground. But they should also bring a lot of personal initiative to the table, and an open-minded and interested attitude to change. We need drivers, not passengers."
It is often said that this generation of applicants is different in terms of what they expect from potential employers. Would you agree with this observation? And, if so – what challenges does this trend present for you?
Sylvia Wolf-Britsch: "Expectations and requirements are changing on both sides. Applicants are looking for opportunities to progress; they want to do meaningful work and take on responsibility. These objectives are also in our interest as an employer and we are keen to take on such candidates, because they become driving forces for change at the bank. Flexibility is a key requirement for us. Applicants, in turn, enjoy the benefits of working for a reliable employer with a robust business model."
What challenges is the business facing in this respect? Where do you see scope for development?
Sylvia Wolf-Britsch: "We need to keep reassessing what our (young) employees need. And we should also have confidence in their abilities. In order to achieve that, we need to listen to them and be flexible. I think we are in a good place already in this respect, but the process of growing and developing together never ends.
In terms of developing the next generation of our workforce, we focus on providing opportunities and opening doors for young professionals. However, this approach has required a fundamental rethink. For a long time, we took care of everything on behalf of our junior staff. Now we want to provide them with the support they need to carve their own path."
We want our staff relationships to go the distance – we are not looking for sprinters who quickly run out of steam.
Thomas Ullrich: "We want our staff relationships to go the distance– we are not looking for sprinters who quickly run out of steam. Being quick and agile is important, for us and also for our young applicants. But we also need to remind our staff to use their strength and resources wisely. Ultimately, we need energetic and resourceful employees who make an active contribution – at all levels. Hierarchy is not everything."